Donations/Payment
You can donate on-line using Paypal or your credit card by clicking here.  You can also submit a check with your registration format the office.
The Renewal Center relies on the generous contributions of patrons and supporters who appreciate the value of the Center's unique missions and programs. In order to support our mission we have committed to a process of sustained growth and development. We will continue to seek relationships with individuals and communities that share our commitment to contemplation. We will commit to a stewardship of the time, talent and treasure of those who join us in this ministry.
We have also set up various ways for friends and benefactors to join us in the stewardship programs: 2,500 Brick Club, RRC Endowment Fund Specific Repairs and Remodeling.  We also have other small fund-raising events Please call us at 520.744.3400, write, or email our office for further information.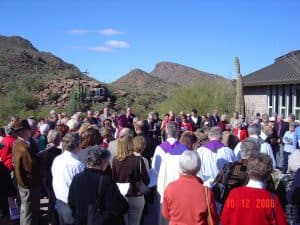 Our New Challenge: At the Dedication of our new facilities on December 9 – 10, 2006,
Father Tom Santa, Director of the Center at that time, launched a new initiative to pay off the debt incurred from the renovation and reconstruction project. The amount of the new challenge is $2,374,151. Father Santa asked: "Is there a way to look at our cumulative debt, in the midst of the celebration of completion of the project, and find a way to creatively imagine a manageable solution?"
The answer is yes. Instead of perceiving the debt in its entirety and trying to get our minds around such a big number, we have chosen instead to break down the number into a challenge that is much more manageable: 2,500 one-thousand dollars decisions. "If, over the next five years, we can invite 2,500 of friends and supporters of the RRC to make a pledge in the amount of $1,000, our debt will be history." Thus, the "2,500 Brick Club" was launched (each brick is purchased for $1,000).
Since that launch, we have received warm response from our friends and supporters. We have placed more than a hundreds of engraved bricks in front of the church. We pray for our continuing support from our benefactors. We encourage you to spread the word to your friends and families. Tell them that while contributing to our Center, an engraved brick is an excellent way to remember their parents, teachers or mentors. It is an excellent way to celebrate an event, a timeline in their life, or their loved ones. It is an excellent way to recognize God's love and presence in their life. Please call us at 520.744.3400, write, or email our office for further information on how to apply for an engraved brick.