Standard Rooms:
These rooms include private bath with shower or tub and one double bed (shown at left) or two twin beds.
Each room has individual climate control. The standard rooms are within easy walking distance of the meeting rooms, the chapel, and the dining room. There are a total of thirty-eight standard rooms in four buildings.
Room in the Saint Alphonsus Building:
This is the home for the resident Pathless Path Program, include a private bath with shower and one twin bed; the St. Alphonsus building has central climate control that is not adjustable to personal preferences. Guests who use this facility are asked to cooperate with the silence and ritual associated with the resident community. There are five rooms in this facility.
Two-Room Suites
Each suite includes a sitting room, bathroom and bedroom. There is individual climate control in each room, including ceiling fans. Suites are typically furnished with a refrigerator and a desk. Some suites have incredible unobstructed views of the desert landscape, while others are configured specifically for the use by our handicapped guests. There are six suites in four separate buildings.
Courtyard Rooms: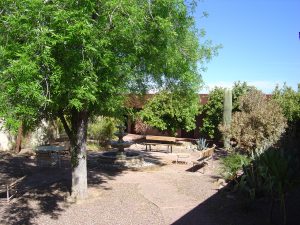 These rooms are slightly larger than a standard room. These are ideal for those who wish to extend their stay. The rooms do not have individual climate control. Courtyard rooms share a common protected space with a central fountain and outdoor seating with mountain views, perfect for relaxation and reading. The rooms are adjacent to the Sabbatical Common Room and the Massage Room. There are six rooms in the garden courtyard area.
Hermitages:
These consist of a bedroom with queen size bed, private bath with shower, sitting area, and small coffee area. Each hermitage has a private patio and unobstructed views of the desert landscape. There is one hermitage constructed specifically for the needs of our handicapped guests. The hermitages are within easy walking distance of the pool, the main meeting building and bookstore, and the dining room. There are six hermitages.
Room Policies:
Our rooms are clean and maintained in good repair. Fresh linens are provided for your use. If you are with us for an extended stay, your linens will be laundered or refreshed upon request.
We ask our guests to remake their beds with the clean linens provided before departing (blankets and bedspreads should not be included with the used linens.) We ask this to help keep our costs reasonable. We appreciate this effort on your behalf and understand if you are unable to accommodate this request.
Meeting Room Policies:
The Redemptorist Renewal Center has a variety of meeting rooms available for your use. Upon your arrival at the Renewal Center, you will be informed of your meeting room assignment(s). You will also find the name of the group that is assigned to the space posted on the door. Meeting rooms are prepared for your use according to your requests prior to arrival. If there are any adjustments that need to be made please do not hesitate to inform us.
The Ironwood meeting room is located underneath the Petroglyph room, next to the library and the swimming pool. This room can accommodate up to 50-65 people.  The Agave and Prickly Pear rooms are located on the south side of the facilities at St. Clement Building. The Agave room has a capacity of 35 participants and the Prickly Pear room can comfortably seat up to 10-15 people.
Other Facilities